Gu Ge "Wen Yun life" stunning debut Shenzhen underwear brand exhibition
As an annual underwear feast, the 2014 China Underwear Fair is about to begin. The underwear exhibition will be held in Shenzhen Convention & Exhibition Center from May 9 to May 11, 2014 with an exhibition area of ​​58,000 ㎡ to allow more Underwear brands can use this exhibition to strengthen resource integration, promote international exchanges and cooperation, deepen the development of China's underwear brand. As a local brand in Shenzhen, Guge was fortunate enough to be invited to participate in the Shenzhen Underwear Zone Brand Exhibition and jointly display the underwear brand image of Shenzhen underwear with many brands to China and even the rest of the world.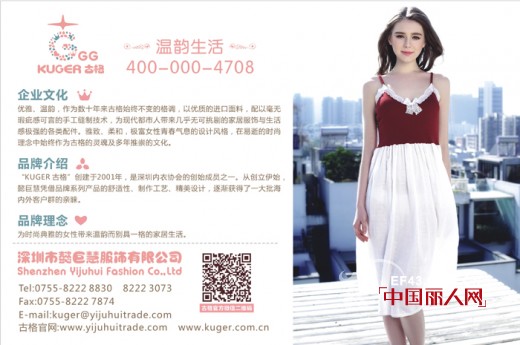 Organized by Shenzhen and supported by the government of Shenzhen 2014 underwear exhibition, and strive to build China and the Asia Pacific region's largest and most influential lingerie promotion display trading platform. As an important highlight of this year's underwear show, the underwear regional brand exhibition in Shenzhen has completed the work of image design, positioning, concentration, promotion, competitions and forums since the official launch of the underwear brand in Shenzhen at the end of 2012, The slogan in the industry sing, made a good promotion.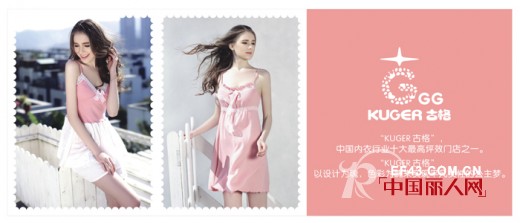 Gu Ge Shenzhen is the first to "home culture" concept show to consumers through the underwear design brands, including the exclusive design of the home without ring Homer is even more popular with consumers. No-rim home-style underwear for women away from the tedious work, so that home life comfortable, relaxed, cozy, meticulous workmanship to add refined sense of female life.
Fashion coexistence of youthful charm and pajamas, home service Gu Ge this brand rooted in Shenzhen, with the economic development of Shenzhen and development. Through the avant-garde design concept, trendy design techniques, unparalleled fabric and pursuit of excellence in the pursuit of urban families to understand that excellence in the clothing is the quality of life necessary. Guge brand concept is subtly changing the original consumption habits of Chinese pajamas market, "Wen Yun life, exquisite consumption," a new concept of consumption is born, and with the further development of Gu Ge and thrive.
Shenzhen underwear regional brand's first members, KUGER Guge, stunning debut Shenzhen underwear regional brand exhibition, together with the Shenzhen underwear brand, in order to regional brand development and further enhance the visibility and reputation of the underwear industry in Shenzhen and outside work together.
Mens Shorts,Denim Shorts,Board Shorts,High Waisted Shorts
ShaoXing Kailong Trousers CO,.LTD , https://www.sxkailongtrousers.com